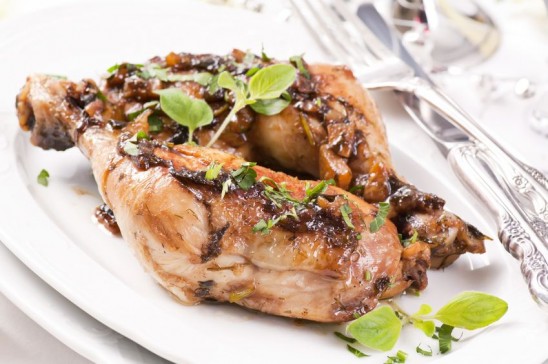 Seasoned broiled chicken breast served with a sauce made with cream, burgundy wine, chicken stock, mushrooms and bacon.
---
Chicken Coq Au Vin Recipe
Serves 4-6
4-6 Boneless chicken breast
1 lb bacon
2 cup heavy cream
1 cup red wine
1 cup sliced mushrooms
½ cup diced onion
1 ½ Tbsp chicken base
1 Tbsp fresh minced garlic
Salt
Cornstarch
Sauté bacon until crispy in large sauté pan, add mushrooms and onion and continue cooking until onions are clear. Add cream, red wine, chicken base, and garlic. Simmer for 5 minutes and thicken sauce with cornstarch. Broil or grill chicken and spoon sauce over chicken. For added flavor marinate chicken in 2 c water and 1 T salt for ½ hour before cooking.