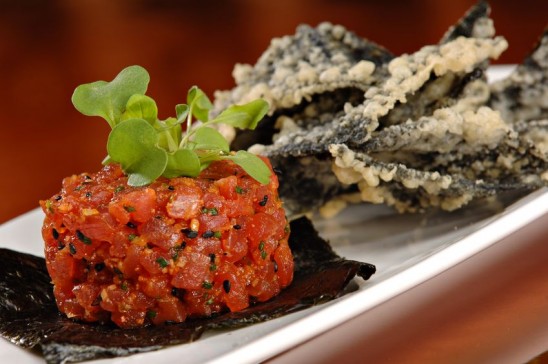 Fresh Ahi Tuna marinated in sesame oil, garlic, chili sauce. Served in wonton cups with soy sauce.
---
Ahi Tuna Poke Recipe
Makes 10 appetizers
8 oz fresh ahi tuna
1/2 T sesame chili oil
1 T sriracha chili sauce
1.5 T soy sauce
1 sprig chopped green onion
2 t sesame seeds
6-8 small wonton wrappers
This is one of my personal favorites because it's light and healthy. Put the wonton wrappers on a sheet pan that has been sprayed with cooking spray, then spray the top side of the wrappers as well. Bake at 350 degrees for 10-15 minutes or until crisp. Dice the tuna as large or small as you prefer. I like to cut it into 1/2″ cubes, but it's up to you. Mix with the first six ingredients and chill for an hour. Spoon the tuna onto the wonton wrappers, sprinkling some sesame seeds on top if you like.